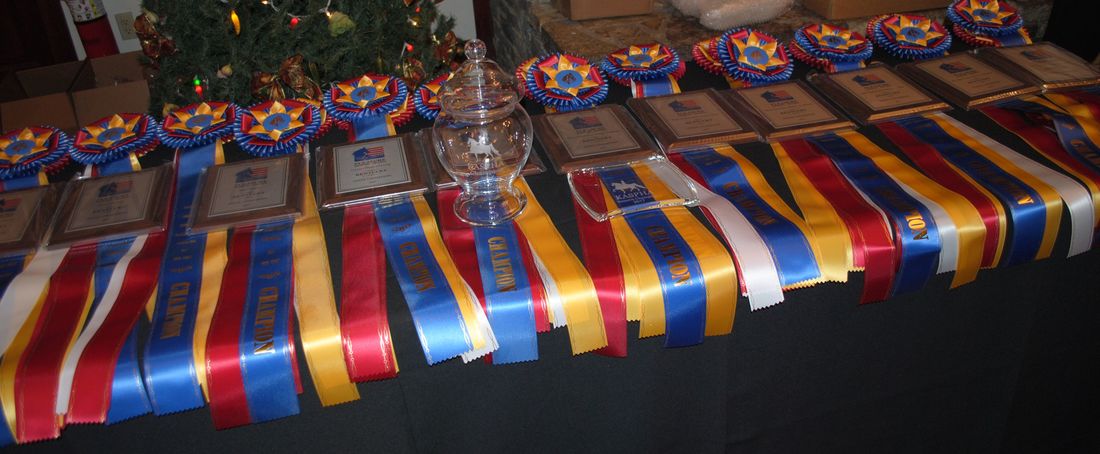 HIGH POINT AWARDS



2017 High Point Winners



Horse Owner

Pleasure Equitation
Champion: Bailey Blackburn
Reserve Champion: Paige Russell

ASB Western Pleasure
Champion: In Charm's Way Junelynne Oldham
Reserve Champion: Very Funny Scarlett Mattson

ASB Hunter Pleasure
Champion: Magic Storm Pamela Kincaid
Reserve Champion: Bibbidi Blackidi Boo Janalyn Prows

3-Gaited Pleasure Pony
Champion: Lady's Main Man Marek, McKenna and Seth Poe
Reserve Champion: Spanish Moon Carl Fischer Jr.

Park Pleasure
Champion: Time For Latte Brenda Kelly
Reserve Champion: Angelina Charm Darrell Crosswhite

Country Pleasure Driving
Champion: Shelly's Time Herb & Carol Barbee
Reserve Champion: Imagine The Possibility Terry Stafford

Show Pleasure Driving
Champion: Honey I'm Good Perry and Sally Grieme
Reserve Champion: CH Double Or Nuttin Kim Linke and Angela Utecht

Junior Exhibitor Country Pleasure
Champion: WC High Point Memories Willow Wind Saddlebreds
Reserve Champion: Dreamview's Tax Collector (tie) Jeff Key
Roseridge's Locked & Loaded (tie) Anna Schweitzer

Adult Country Pleasure
Champion: Pure Royalty Ashley Biggins
Reserve Champion: Juicy Fruit Karen Thompson

Junior Exhibitor Show Pleasure
Champion: K Sue Rah Carl Holden Jr
Reserve Champion: Christopher Blue (tie) Doug & Kathy Hensley
CH Can You Hear Me Now (tie) Garlington Saddlebreds

Adult Show Pleasure
Champion: The Simple Truth Schmidt & Capsuto
Reserve Champion: Vladimir Claudia Schultheis

Junior Exhibitor 5-Gaited Pleasure
Champion: Mountainview's North Star Sarah Gilbertson
Reserve Champion: BWF You Wish Garlington Saddlebreds

Adult 5-Gaited Pleasure
Champion: Unusually Unusual Jamie Bowlds
Reserve Champion: Soquili's Gone With The Wind Split Decision Farm



---
---
KASPHA High Point Awards are given annually in the following divisions.
Pleasure Equitation
ASB Western Pleasure
ASB Hunter Pleasure
3-Gaited Pleasure Pony
Park Pleasure
Country Pleasure Driving
Junior Exhibitor Country Pleasure
Adult Country Pleasure
Junior Exhibitor Show Pleasure
Adult Show Pleasure
Junior Exhibitor 5-Gaited Pleasure
Adult 5-Gaited Pleasure

High Point Rules

Points are awarded in all qualifying classes on the following basis:

At the May Classic:

1st Place 5 points
2nd Place 4 points
3rd Place 3 points
4th Place 2 points
5th Place 1 point



At the Kentucky State Championship:

1st Place 7 points
2nd Place 6 points
3rd Place 5 points
4th Place 4 points
5th Place 3 points

Horses or Equitation riders who exhibit in the same division at both shows in a calendar year are awarded 1 extra point

In order to earn High Points the REGISTERED OWNER of the horse, including the registered owner of a leased horse, or the Equitation rider, must be a KASPHA member prior to the start of the qualifying class.

As an ASHA Charter Club, our High Point data is used by ASHA to calculate the ASHA Kentucky State Pleasure Horse Champions.